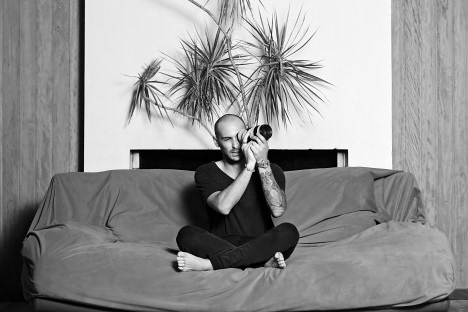 MAURICIO NACE EN MONTEVIDEO, 1987. RECIBE UNA FUERTE INFLUENCIA DESDE SU HOGAR POR LAS ARTES PLÁSTICAS QUE DE GENERACIÓN EN GENERACIÓN MARCARON  SU FAMILIA. 
ESTUDIO GUITARRA CLÁSICA EN LA ESCUELA UNIVERSITARIA DE MUSICA DE MONTEVIDEO. ENCUENTRA SU CAMINO EN EL LENGUAJE FOTOGRÁFICO DESDE MUY JOVEN Y COMIENZA SUS VIAJES QUE LO LLEVAN A DISTINTAS PARTES DEL MUNDO. 
VIVE EN BRASIL EN UNA COMUNIDAD TRADICIONAL DEL NORESTE DE SAO PAULO. DOCUMENTA SUS COSTUMBRES Y LOS NIÑOS PESCADORES DE LA COMUNIDAD. 
VIAJA A INDONESIA Y REALIZA EL PROYECTO FOTOGRÁFICO "4 ISLAS / 1 MES" JUNTO CON EL SURFISTA Y EXPLORADOR VASCO KEPA ACERO, TAMBIÉN DOCUMENTANDO COSTUMBRES Y ROSTROS DE LA INDONESIA PROFUNDA. COLABORA EN PUBLICACIONES INTERNACIONALES, 
PARTICIPA COMO JURADO INTERNACIONAL DE FOTOGRAFÍA. SE DEDICA DE LLENO A LA FOTOGRAFÍA ACUÁTICA SIGUIENDO SURFISTAS INTERNACIONALES. 
VUELVE A URUGUAY Y CONOCE AL MAESTRO CARLOS PORRO CON QUIEN COMIENZA SUS ESTUDIOS FOTOGRÁFICOS DE ESPECIALIZÁCION EN ILUMINACIÓN DE ESTUDIO, RETRATO Y PRACTICAS DE LABORATORIO. 
INSTALA SU PROPIO ESTUDIO FOTOGRÁFICO Y COMIENZA  A DESARROLLAR PROYECTOS DOCUMENtALISTAS. 
SUSANA BAVA - QUALITIES FOTO
[ Mauricio is born in Montevideo, 1987. He grows up in a home strongly influenced on plastics art, from generation to generation.
He studied classical guitar in University of Music - Montevideo. He found his way in the photographic language at a very young age, and begins his journey to different places of the world. Mauricio lived in Brazil in a traditional northeastern community of Sao Paulo, documenting their customs and culture.
He travelled to Indonesia and performed the "4 Islands / 1 month" photographic project with the Basque surfer/explorer Kepa Acero, also documenting Indonesian customs and faces.
He collaborates in international publications as well as participates as an international jury of photography. 
He fully dedicates to aquatic photography joining international surfers.
Mauricio returns to Uruguay and meets Master Carlos Porro with whom he begins a specialization in studio lighting, portraiture and laboratory practices.
He sets up his own photographic studio and begins developing documentary projects. ]
Susana Bava - Qualities Foto